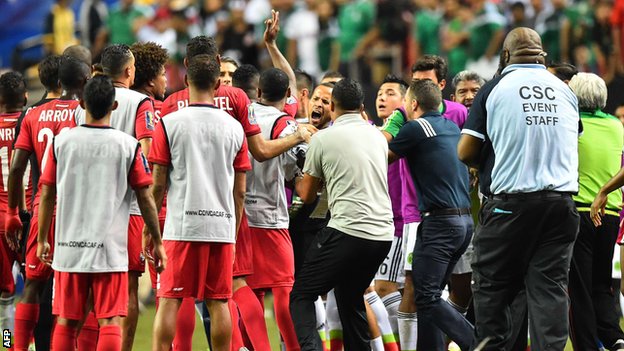 Players clashed and items were thrown from the stands as Mexico won a controversial Gold Cup semi-final against Panama to set up a match with surprise finalists Jamaica.
Mexico came from behind courtesy of two penalties – late in normal time and extra time – to win 2-1 in Atlanta.
Panama's Luis Tejada was sent off in the first half.
At the end of the match, Panama players charged at the officials, who were escorted from the pitch by security.
Mexico will win a seventh Gold Cup if they beat first-time finalists Jamaica at Philadelphia's Lincoln Financial Field on Sunday.
Panama see red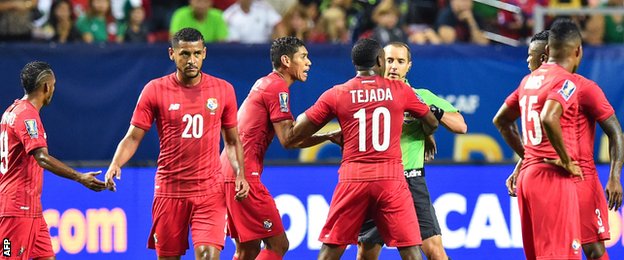 Already the underdogs, world number 62 side Panama's task was made even harder when forward Tejada was dismissed for a reckless tackle on Mexico's Francisco Rodriguez in the 25th minute.
The Panama players surrounded American referee Mark Geiger in protest.
However, despite their numerical disadvantage, Panama opened the scoring when Roman Torres, who scored the winning goal against Mexico in the semi-finals in 2013, out-muscled Francisco Javier Rodriguez to head home in the 57th minute.
Tempers flare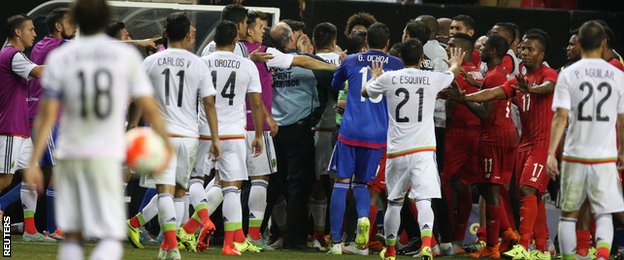 Beaten 2005 and 2013 finalists Panama were seconds away from another final appearance, but were denied when Torres was adjudged to have handled in the penalty area.
This sparked further aggressive protests from Panama players, with fans throwing debris on to the pitch.
Players from both teams confronted each other on the sidelines and had to be separated.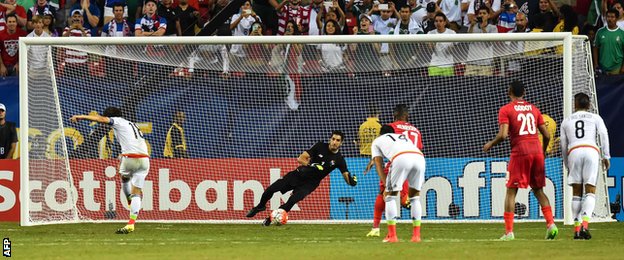 After a 10-minute delay, Andres Guardado scored his spot-kick to send the game into extra time.
Mexico were awarded another penalty towards late in the first period of extra time when Javier Orozco was fouled by Harold Cummings and Guardado scored the winner.
At the end of the match, further objects were thrown from the stands as the Panama players confronted the referee, who was led off by security.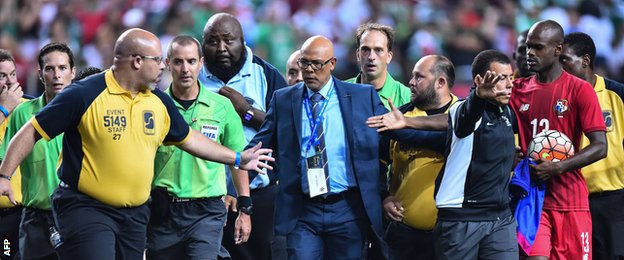 Jamaica await
Jamaica became the first Caribbean side to reach the Gold Cup final with a surprise 2-1 win over favourites the United States at a sold-out Georgia Dome.
Darren Mattocks nodded home the first goal in the 31st minute, with Giles Barnes scoring a free-kick five minutes later.
US captain Michael Bradley pulled one back early in the second half but the hosts were unable to break down a stubborn Jamaican defence again.
"We cannot have a party now. We still have one more match," said Jamaican coach Winfried Schaefer. "Bob Marley comes after the match."